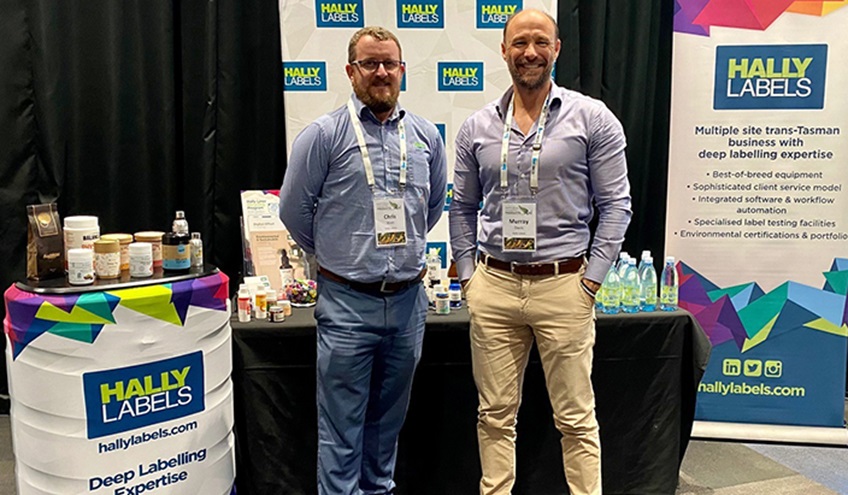 Sponsoring the 2021 Natural Health Products NZ Suppliers' Day
We were back as the official coffee cart sponsor and an exhibitor at the annual Natural Health Products NZ Suppliers' Day, held at the Sir Noel Robinson Conference Centre in Auckland on Tuesday 17 August.
Our National Sales Manager, Murray Davis, and New Business Development Manager, Chris Watt, represented us and showcased our comprehensive nutraceutical labelling capabilities. The Suppliers' Day is an outstanding opportunity for us to network and gain new knowledge with those in the industry. The event is a unique 'show and tell' format for suppliers, manufacturers and other members to come together with the purpose of sharing new products, ingredients or processing proficiencies.
This year, we had on display our environmentally sustainable labelling solutions including recycled content, plant-based renewable, chain of custody certified and compostable label options.
Murray had this to say; "The supplier day provided another great opportunity for Hally to present our labelling capabilities whilst supporting the Natural Health Products industry. We continue to see a clear shift in the industry with significant interest in environmentally sustainable labelling options. As always it was a privilege for myself and Chris to represent Hally to such an important sector of our business".
Chris and Murray have extensive experience in the nutraceutical space and would be delighted to meet with you to discuss your labelling requirements.
Hally Labels stand

Suppliers' Day attendees learning about our comprehensive nutraceutical labelling capabilities

Hally Labels coffee cart

Line up for the morning brew at the Hally Labels coffee cart

Hally Labels stand

Murray Davis and Chris Watt represented Hally Labels at the Suppliers Day event

Natural Health Products Suppliers' Day

Hally Labels was the official coffee cart sponsor and an exhibitor at the annual Natural Health Products NZ Suppliers' Day