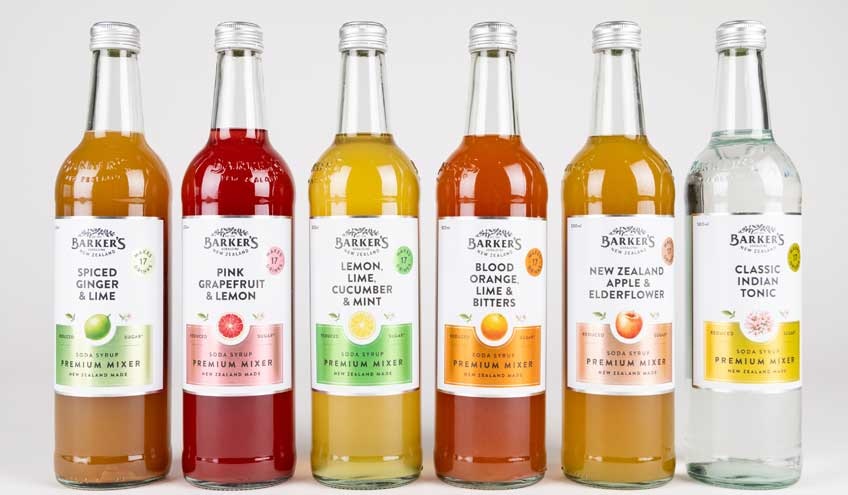 21 stunning label embellishments and effects to incorporate in four simple steps
Eye-catching labels are an effective way to promote your product and differentiate your brand. We all know how important it is to have a standout label. It's your on-shelf billboard and the last advertisement in the buying decision process. You've got two to six seconds to make an impression and every detail counts.
Your label communicates multiple messages both overtly and sub-consciously and can convince buyers to choose one product over another. It is important to carefully consider what you want your label to say. Do you want it to exude a certain kind of elegance; tell a story; have a natural organic look? This message can be created or enhanced by using embellishments and effects on your label.
Here are four key steps to help you choose the right embellishments for your chosen label design.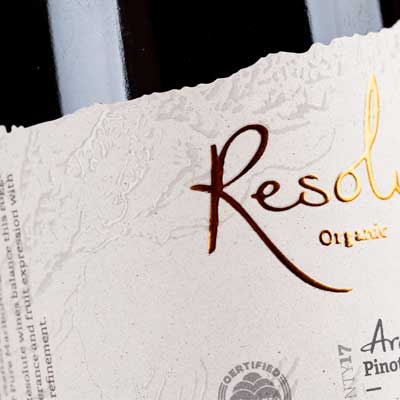 Step 1: First, consider the quality and type of label material. Think about the type of finish you would like and how it will present the design elements. The shape of the label is also a key factor.
1. Material Selection – build an identity
We have a vast range of label material options available to suit any desired look or application. Gloss paper, beautiful textured and uncoated papers (Birrabeen, Clarence and Pelorus), clear film, metallised options, natural kraft paper, environmentally friendly options; we've got it all. We also have a variety of specialty materials that provide a unique look (eg leather, wood, holographic, agave, black vellum, crimson felt and more) or perform a specific labelling function.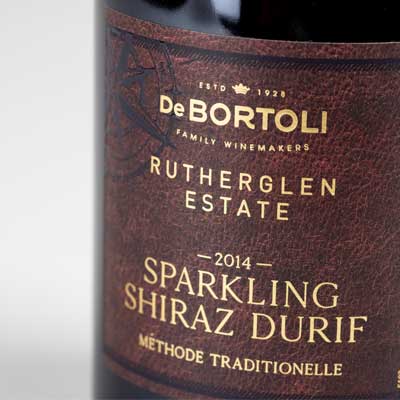 2. Bespoke Die Cutting – to differentiate
Think beyond squares, rectangles and circles; irregularly-shaped labels can create a unique identity. Choices include extra-rounded corners, sharp geometric angles, two-part labels, torn-look edges, or custom shapes. If you have an interestingly shaped container consider using an unconventional label shape to match.
Step 2: The importance of colour is up next. Colours create cues for messages, influence emotions, increase brand recognition, and ultimately impact purchasing decisions. Particular colours are more predominantly associated with certain product categories. Your colour scheme should be considered to create the right positioning for your product, and it should stand out on shelf. The following range of specialty inks enhances your choices and introduces interactive and exciting ways to use colour.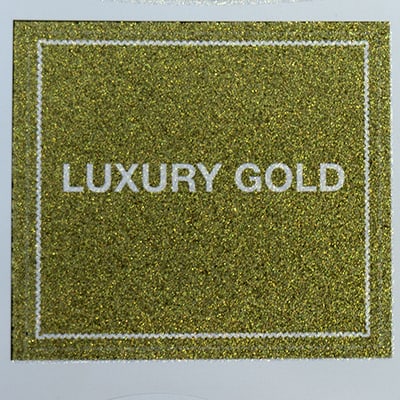 3. Luxury Gold – bringing the bling
Luxury gold is a glossy, gold, glittery effect with a raised, tactile surface. The glittery effect is created by using unique colour pigments. When printed over dark backgrounds it has a gold glitter effect or over lighter backgrounds it creates a pearly white appearance. Other luxury pigments are available to achieve this colour-changing glitter effect like blues, purples and reds. Pictured, left.
4. Thermochromic Inks – colour-changing, temperature sensitive inks
These change colour when exposed to certain temperatures. A range of temperature bands and colours are available, and the change can be reversible or irreversible. Perfect for hidden messages and design elements, or as a helpful gauge for the consumer to know when a product is ready for consumption.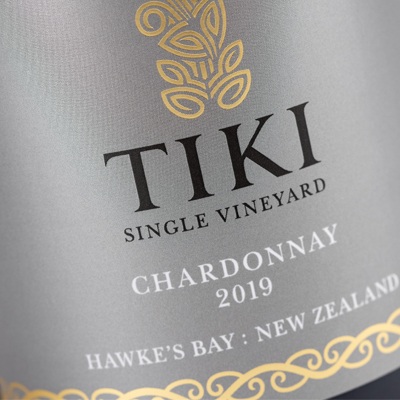 5. Metallic Inks – a lustrous look
Metallic inks are used to create a similar effect to foil, although not as reflective. The shine of the metallic particles in the ink give a premium metallic look in a variety of colour choices. New in is our digital silver ink for a lustrous effect for digitally printed labels. Pictured, right.
6. Chameleon ink – colour-shifting impact
This specialty ink creates a colour shift when viewed from different angles. It's a great way to interactively transform design elements. Best used in large solid areas to maximise the effect.
7. Sunlight ink – here comes the sun
This effect is invisible until it goes out in the sun where it dramatically changes colour. Perfect for hidden messages or design elements as part of a novel campaign or limited edition release.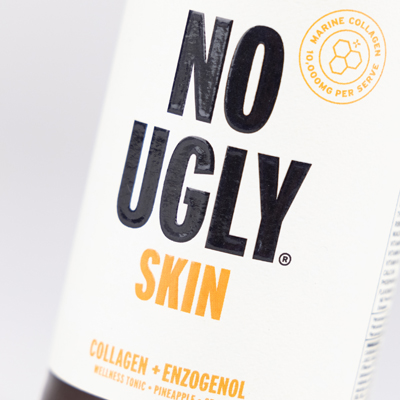 8. Silk Screen – the ultimate in colour richness and depth
The silk screen process prints a smooth, controllable lay-down of ink that creates high density, opaque colours. This gives excellent depth and robustness that is not achievable with conventional inks. Silk screens are particularly effective when using a white either on its own or to provide a base for vibrant design elements printed on top. Pictured, right.
Step 3: Now consider the label's design elements. Special embellishments and effects can boost a product's shelf appeal by creating strong visual and tactile impact; vital in crowded, competitive markets. Some options include:
9. MCC Personalisation – individual and original
Our MCC Personalisation technology allows every label to be different. This innovative digital solution enables thousands, hundreds of thousands, even millions of unique designs to be created from a limited number of original designs.
10. Reverse Printing – extra communication space
Printing on the back of a label reduces the content on a label's face side and minimises clutter. It's a great way to add extra information or promotional content without compromising the look and feel of the brand. This only works for labels applied on clear surfaces where the back of the label is visible. It's also a fun way to reveal hidden content as the product is consumed.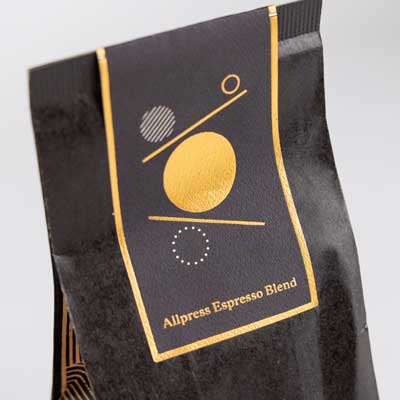 11. High Build – highlight points of interest
A high build has a raised appearance offering a tactile, premium effect that can't be flattened. It highlights key design areas on the label or can be used to create a textured pattern. It is very effective when used as a super gloss highlight over a matt-finish background. Low, mid, high and braille builds are available. Pictured, left.
12. Embossing – layers of texture
Embossing is a premium element that raises the surface of a chosen label area or pattern. This gives stand-out presence on the shelf and has a tactile effect that encourages the consumer to linger over the product. Alternatively debossing uses the same method but in reverse, where the chosen element is lowered into the surface of the label.
13. Foiling – create shimmer and shine
Foil adds a striking and elegant effect that is used to communicate quality. It refracts light and draws a shopper's attention. A wide range of colours and effects are available; gold, silver, bronze, copper, rose gold, holographic, matt silver, black, white, and green to name a few. Printing on top of foil is also an option, for custom colours and print effects. We offer both hot and cold foiling methods. Hot foiling is ideal for fine, high quality detail and is suitable for use on uncoated and textured materials. Pictured, above left and below right.
14. Glow-in-the-Dark – excellent brightness in total darkness
This effect does just what it says, it creates glow-in-the-dark areas on the label. You can highlight specific design areas or incorporate hidden elements for a fun and interactive effect. We also offer a special black light ink that under a UV 'black' light glows fluorescently.
15. Scented ink – engage the senses
When scratched, this ink releases a fragranced aroma that can be used to promote a flavour, evoke an emotion or create a statement. It's available in a wide range of standard and custom scents from vanilla, fruit, flowers, citrus to chocolate; your imagination is the limit!
16. Scratch-off ink – generate excitement
Scratch-off inks hide a message underneath and can be removed by scratching with a fingernail or coin. Ideal for promotions where the consumer is given the excitement of revealing a prize, discount, reward or hidden message.
Step 4: Adding the final touches can dramatically enhance the overall look and feel of your labels. Some finishes and protections that can be added to your label include: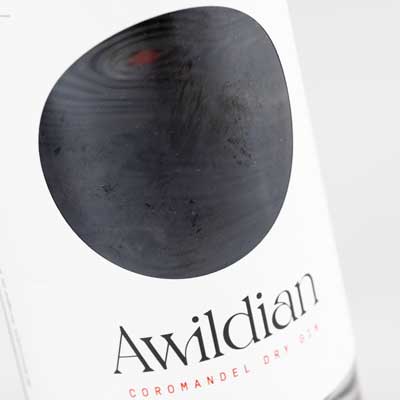 17. Flood Coating – an overall finish
This is when the entire label surface is finished in either a high, satin or matt coating. The coating gives extra protection to the label and helps avoid scuffing and general abrasion during packaging, transport and handling.
18. Spot Coatings – add dimension
Spot coatings are applied to a particular area, feature or element of a label. This creates a visual and textural contrast that highlights an element or creates a pattern. Typically these are either gloss or matt. When used in contrasting combination with each other they create a very effective textured, 3D look. Pictured, right.
19. Textured Coatings – feel the difference
These have a unique tactile and visual quality that offers a slightly raised, textured finish. Our Sandpaper coating gives a super-gritty, rough feel with a matt appearance (pictured, below left). Our Naseby coating is both textured and pearlised, also with a matt appearance. These are particularly effective when used on certain elements of the label in combination with contrasting spot gloss coatings or high builds.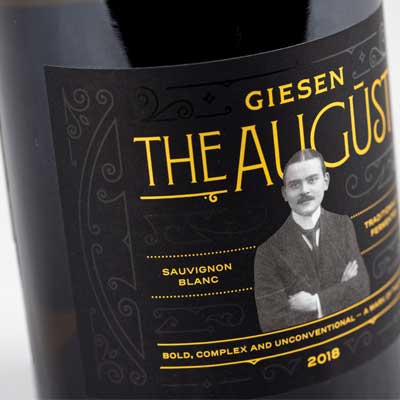 20. Soft Touch Coating – a touch of luxury
This luxurious coating can be applied in selected areas or to the entire surface of the label to achieve a subtly plush texture. It encourages touch and engagement and provides products with a unique velvety and warm positioning.
21. Laminations – a durable and high impact finish
The entire label surface can be finished in a gloss or matt lamination film. This provides a high impact appearance in addition to strong moisture and scuff protection. We even have specialty laminations like linen and leather effects to create a unique tactile finish.
Wow that's a lot of options! Now all that is left to do is get in touch with us to bring your label to life. Our team of label experts can help you navigate our full range of custom label embellishment solutions to ensure you achieve your desired look.
Please browse our testimonials page or take a look at our gallery for examples of the labels we print for our valued clients. We would be delighted to work with you on your next custom label; contact one of our experienced label experts today.
Spirits label

Spirits label printed on premium textured paper with gold foil detail

Condiments Label

Our environmentally friendly material stone paper

Wine label for Pinot Noir

Finished with a hover foil embellishment

Spirits label

Custom Rum Label with Metallic Ink and Foil on Clarence material

Honey labels

Finished with a luxurious soft touch laminate

Beer labels

Custom gold label foiling

Custom label die-cutting

Custom label die-cutting

Range of Foil Label Embellishments

Range of Foil Label Embellishments

Custom die-cut label with foiling

Custom die-cut label with foiling

Honey labels

Custom silver label foiling embellishment

Custom label printing

Custom label printing

Matt and Gloss Label Finishes

Matt and Gloss Label Finishes

Spirits label

Custom die cut spirits label printed on our environmentally friendly Clarence paper material

Milk label

Custom label die-cutting

Wine label

Sandpaper Coating and High Build Varnish

Luxury Gold Label Embellishment

Luxury Gold Label Embellishment

Timber Specialty Label Material

Timber Specialty Label Material

Leather and Flecks Specialty Label Materials

Leather and Flecks Specialty Label Materials