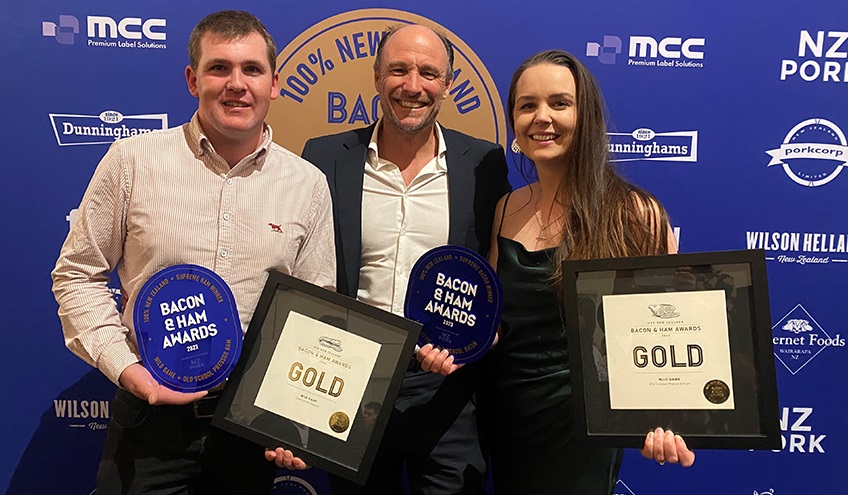 Honouring Excellence at the 100% Bacon and Ham Awards
New Zealand's passion for mouthwatering bacon and ham reached new heights last night at the prestigious 100% Bacon and Ham Awards, held at the Auckland Racing Club. It was a true celebration of local retailers who produce bacon and ham from homegrown pork. With a remarkable 151 entries from 42 retailers, the competition was fierce as each participant showcased their dedication to the art of curing bacon and ham.
MCC Christchurch were the official gold sponsor of the Awards, responsible for supplying the competition medal labels that adorned the award-winning products.
In attendance at the evening awards were, Murray our General Manager and Grace, our Internal Account Manager. Murray and Grace mingled with the retailers and those in the industry sharing their admiration for the hard work and passion on display.
Reflecting on the night, Murray and Grace expressed their appreciation for such a vibrant and well-organised event. Murray said, "the evening was a resounding success, and congratulations to all the category winners, their passion and talent is what drives New Zealand's bacon and ham industry forward".
MCC Christchurch are committed to honouring excellence and have over 35 years' experience in meat labelling solutions. We print labels that are designed to withstand smallgoods challenges including uneven surfaces, moisture and cold temperatures and have an extensive selection of specialty materials. Our team of label experts would be delighted to discuss a solution for next meat labelling project – contact us today to learn more.
Murray with Brent Kleiss Chief Executive of NZ Pork

100% NZ Bacon & Ham Awards 2023

Grace with Jane Bradley, Business Support Administrator for NZ Pork

100% NZ Bacon & Ham Awards 2023

Murray and Grace

100% NZ Bacon & Ham Awards 2023

Packed house!

100% NZ Bacon & Ham Awards 2023

The event was held at, such and such a location at the Auckland Racing Club

100% NZ Bacon & Ham Awards 2023

Murray with Varnah & Jorfan Hamilton-Bicknell of Wild Game who won four awards including the overall Supreme Awards winners for both Ham and Bacon!

100% NZ Bacon & Ham Awards 2023