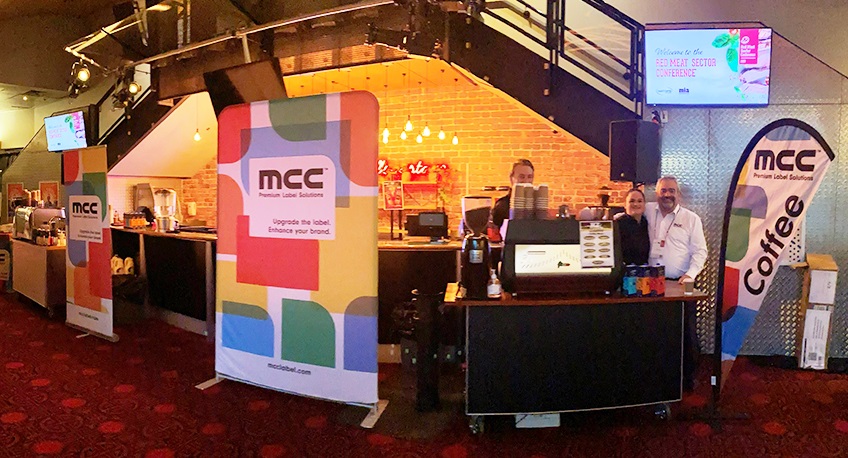 Thrilled to celebrate our 10th year at the Red Meat Sector Conference
We are thrilled to celebrate our 10th year as a proud sponsor at the Red Meat Sector Conference, which is jointly hosted by the Meat Industry Association and Beef + Lamb New Zealand. This year's conference, held at the renowned SkyCity in Auckland on the 6th and 7th of August, centered around the theme of "Driving Sustainability, Value, and Growth" in the red meat sector.
Our team members, Murray Davis, Guy Bignold, and Nick Shepard had the privilege of attending the conference, where they engaged with a diverse range of speakers and industry experts.
As the official coffee cart sponsors, we were committed to keeping the participants energised throughout the event and our coffee cart became a hub of energy fostering engaging conversations and networking opportunities.
Murray said "The conference boasted an impressive line-up of speakers, each sharing their expertise and vision for a thriving, sustainable future. The discussions and workshops were thought-provoking, encouraging collaboration and inspiring innovative solutions".
One of the highlights of the conference was the Gala dinner held on Monday evening. We had the privilege of connecting with industry peers and partners, all united in our commitment to driving sustainability and fostering growth.
At Multi-Color Christchurch, sustainability is one of our core values, if you are interested about finding out more about our meat labelling solutions, innovations or product development, our sales team are available to talk.
Check out some photos from the event in the gallery below.
Multi-Color Christchurch coffee cart

Red Meat Sector Conference 2023

Coffee all set up and ready for serve

Red Meat Sector Conference 2023

The conference in full swing

Red Meat Sector Conference 2023

Cocktail function to begin the conference

Red Meat Sector Conference 2023

Gala dinner held at SkyCity Auckland

Red Meat Sector Conference 2023

Guy, Murray and Nick at the Gala dinner

Red Meat Sector Conference 2023

Leader of the Opposition Christopher Luxon addresses the crowd

Red Meat Sector Conference 2023