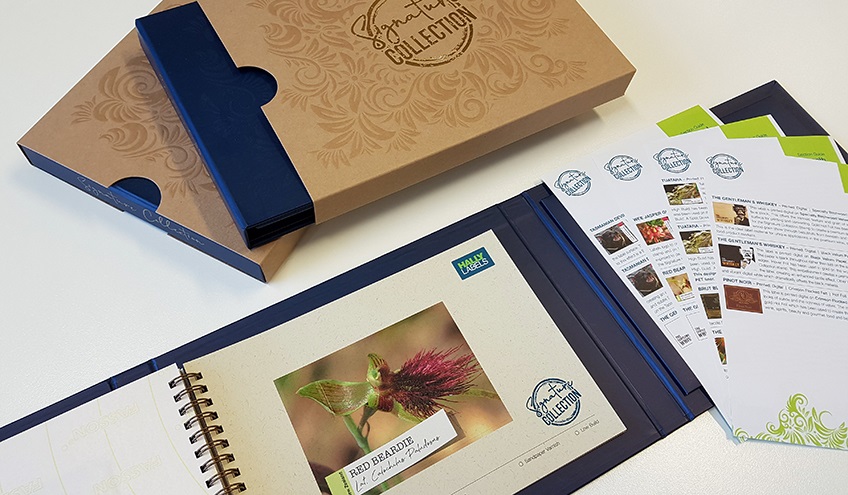 Launching Signature Collection – our label portfolio
We are thrilled to launch the Hally Labels Signature Collection, a portfolio of our capabilities, materials, embellishments and innovations.
Our teams of print experts have spent many hours crafting these labels and we are very proud of the result. We have brainstormed, experimented and pushed, even beyond the limits that our equipment was manufactured for, to create interesting and original effects for our clients.
Presented in a uniquely local way, the Collection features labels printed with a variety of designs that star Australian and New Zealand endangered plants and animals. Embellishments and special effects have been carefully selected to enhance these labels and inspire your creativity. Signature Collection features a broad range of our material options, including textured papers, environmental options and specialties such as Black Vellum, Agave Paper, Crimson Flocked Felt, Pearlescent Patterned Paper, and Silver Aluminium Paper. The gallery below features a sneak peek of what you can expect.
We invite you to view our Signature Collection by booking an Expert Consultation with us. We are confident you will find inspiration within the pages. Our passionate team of label experts would be delighted to guide you on your next unique labelling project.
Hally Labels Signature Collection

Daylight varnish - before and after being exposed to the sun

Hally Labels Signature Collection

Clarence textured paper with High Build Braille embellishment

Hally Labels Signature Collection

Holographic Hot Foil and High Build embellishments

Hally Labels Signature Collection

The stunning Crimson Flocked Felt with gold Hot Foil

Hally Labels Signature Collection

Striking Black Vellum paper with Hover Foil embellishment

Hally Labels Signature Collection

Specialty Birchwood Veneer material with gold Hot Foil

Hally Labels Signature Collection

Our incredible 3D-like Texture Foil embellishment

Hally Labels Signature Collection

Agave Paper with Low Build and Sandpaper Varnish embellishments