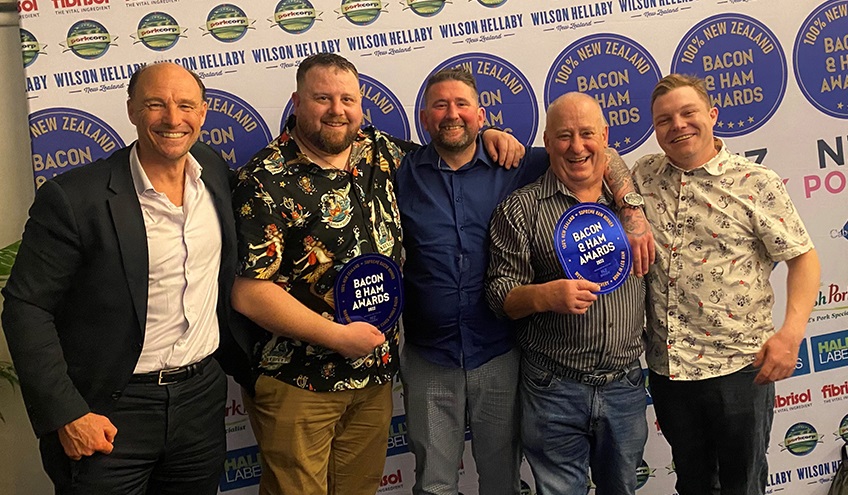 Hally Labels supports the return of the 100% New Zealand Bacon and Ham Awards
After a three-year hiatus, the 100% New Zealand Bacon and Ham Awards were back with a bang, hosting the largest attendance numbers in the event's history on Thursday night.
We were thrilled to be back supporting our local smallgoods industry with Hally Labels being a gold sponsor, and the official medal label supplier, of the awards.
The awards evening was held at the picturesque Royal New Zealand Yacht Squadron, where attendees enjoyed the stunning views of the Auckland harbour and skyline.
Murray and Rachel enjoyed a somewhat rowdy and raucous evening, but all in good fun as they caught up with customers, entrants and the wider industry, who were all under the same roof again for the first time since 2018.
Congratulations to all the medal winners, in particular the two Supreme Award Winners: Warkworth Butchery and Westmere Butchery. The team at Warkworth Butchery took out New Zealand's top bacon award with their dry cured middle bacon entry, and Auckland's Westmere Butchery brought home New Zealand's best ham award for their bone-in leg ham.
At Hally Labels we are market leaders in meat labelling solutions with over 35 years' experience. Our labels have been designed to withstand the challenges of smallgoods including irregular shapes, uneven surfaces, moisture and cold temperatures.
Our team of label experts would be delighted to discuss a solution for next meat labelling project – contact us today to learn more.
Murray with Mrent Kleiss, Chief Executive of NZ Pork

100% New Zealand Bacon and Ham Award 2022

Awards night!

100% New Zealand Bacon and Ham Award 2022

Rachel with Jane Meaclem, Business Support Administrator from NZ Pork

100% New Zealand Bacon and Ham Award 2022

Rachel at the Awards with the Auckland Harbor Bridge in the distance

100% New Zealand Bacon and Ham Award 2022

Murray with Supreme Award Winners, Warkworth Butchery and Auckland's Westmere Butchery

100% New Zealand Bacon and Ham Award 2022