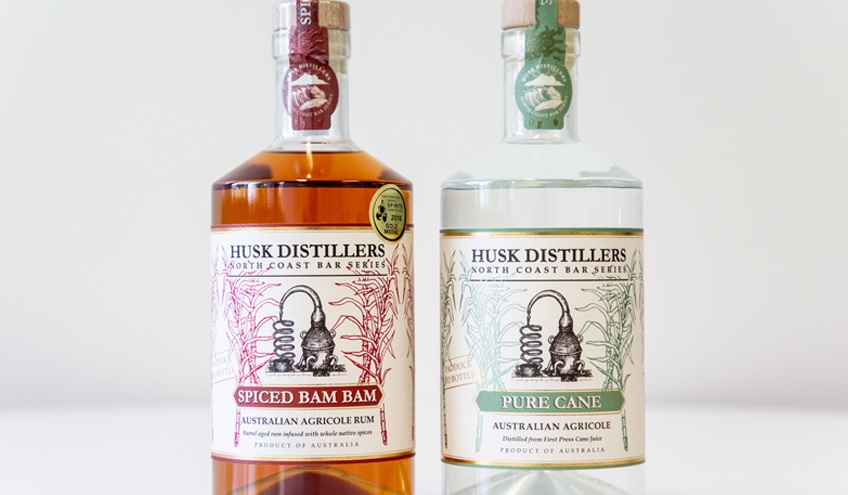 Case Study: Premium Spirits Labels for Husk Distillers
Hally Labels recently worked with Husk Distillers on a beautifully embellished label range for their premium North Coast Bar Series. This collection of agricole rums and unaged cane spirits has been created with a paddock-to-bottle mentality and required a distinctively premium appearance.
Challenge
Husk is a plantation distillery on a cattle and cane farm nestled in the green caldera surrounding Mt Warning in Northern NSW. They offer a range of premium, paddock-to-bottle spirits with a uniquely Australian expression. The labels were being redesigned from their first iteration and required a distinctive look that communicated the unique essence of their brand.
Solution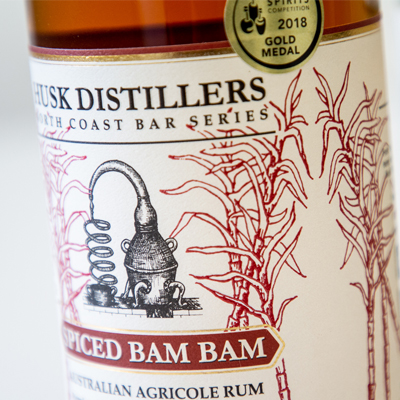 Manuel Rooney headed the Hally team who worked with Husk Distillers and their designer to develop the perfect labelling solution. Geoff, our prepress expert, and Jason, Sydney Operations Manager, provided valuable artwork, printing and technical advice to ensure the best result was achieved. The label range consisted of a main bottle label and a uniquely-shaped neck seal. Clarence was chosen from our extensive selection of label materials due to its premium uncoated nature and softly-defined textured finish.
This spirits label range was an ideal candidate for our leading-edge HP Indigo Digital Offset printing technology. Our digital capability is ideal for short runs of premium or limited edition lines as no printing plates are required. This reduces preparation costs and provides more flexibility, without compromising on world-class print quality.
The labels were elevated with a range of embellishments via our Digicon Series 3 finishing machine which perfectly complements our digital press. Gold foil was used to create a premium, luxurious effect for the brand. A unique combination of silver foil and PMS metallic inks created lustrous accents that matched the brand colours of each variant. A glossy high build screen gave a raised, tactile effect whilst highlighting the brand and product names in contrast to the label's matt finish. The label was also able to be overprinted to add variable batch and bottle details during the bottling process.
Result
The outcome was a stunning label that is truly reflective of the brand's premium nature. Our client was thrilled with the end result.
"Our labels were already pretty nice, but we wanted them to pop more on the bottle and on the shelf. Hally helped us take them to the next level. Manuel and the prepress team went above and beyond to supply creative solutions to any problems that presented themselves. The resulting labels are beautiful, we couldn't be more happy with them."
- Harriet, Marketing & Sales Manager for Husk Distillers
Our experienced team of label experts love working with passionate clients like Husk Distillers to bring their brand vision to life. Request a free label sample pack of our specialty materials and embellishments similar to what we've done for Husk Distillers, or contact us to book an expert consultation.