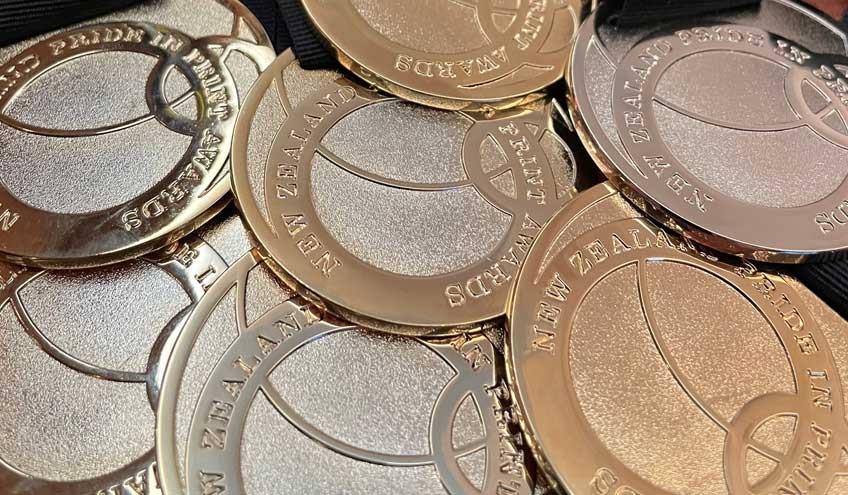 An amazing EIGHT golds at Pride in Print Awards 2021
What a night! We are thrilled to have won an amazing EIGHT gold medals at this years' Pride in Print Awards, including one for sustainability. Congratulations to our New Zealand print teams!
Our wins were across the Wine, Food & Beverage and Luxury Products categories. Additionally, we won in the Industry Development & Creativity Environmental Print Products category for our Stone Paper Bin Tag. We're delighted to be recognised in the sustainability space for this innovative product, which was part of a local council campaign to improve people's recycling habits. The tags were placed on bins that contained non-compliant products, and were required to be weatherproof, strong enough to not get knocked off the bin and able to be written on with a permanent marker. Our solution involved our Stone Paper material, as it not only met the above criteria but is also photodegradable. This meant that any tags that were left on bins would break down naturally over time from exposure to sunlight.
Held in Auckland on Friday 25 June, the Awards were a slick event hosted skillfully by Hilary Barry and Ben Hurley. Pride in Print is in its 28th year of celebrating printing excellence across the entire New Zealand print industry. A 12-strong Hally Labels group enjoyed a festive evening of drinks, dinner and the chance to catch up with colleagues across the industry. It's our chance to celebrate and recognise the amazing work our operations team do day-in day-out for our customers to produce labels with award-winning print quality.
A big thank you to the organisers of the Awards, the sponsors and our colleagues across the industry for supporting the Awards and celebrating print. The gallery below shares some highlights of the evening.
Pride in Print Awards 2021

Tania, Angela and Anne-Marie celebrating our successes

Pride in Print Awards 2021

Jacson and Nick looking pretty happy with their wins

Pride in Print Awards 2021

Matt, Nick, Jason, Tania and Adam at the 2021 Pride in Print Awards

Pride in Print Awards 2021

Anne-Marie, Danielle, Angela and Tania at the 2021 Pride in Print Awards

Pride in Print Awards 2021

Nick and Hilary Barry at the 2021 Pride in Print Awards

Pride in Print Awards 2021

Pride in Print medal winners for the label category

Pride in Print Awards 2021

Nick receiving a medal at the 2021 Pride in Print Awards

Pride in Print Awards 2021

Nigal, Adam, Angela, Jason, Danielle, Nick, Anne-Marie, Ryan, Matt and Tania celebrating our wins

Pride in Print Awards 2021

Tania, Adam and Angela

Pride in Print Awards 2021

Matt, Jason, Anne-Marie, Nick, Tania, Adam and Angela at the 2021 Pride in Print Awards

Pride in Print Awards 2021

Jack showcasing a winning medal