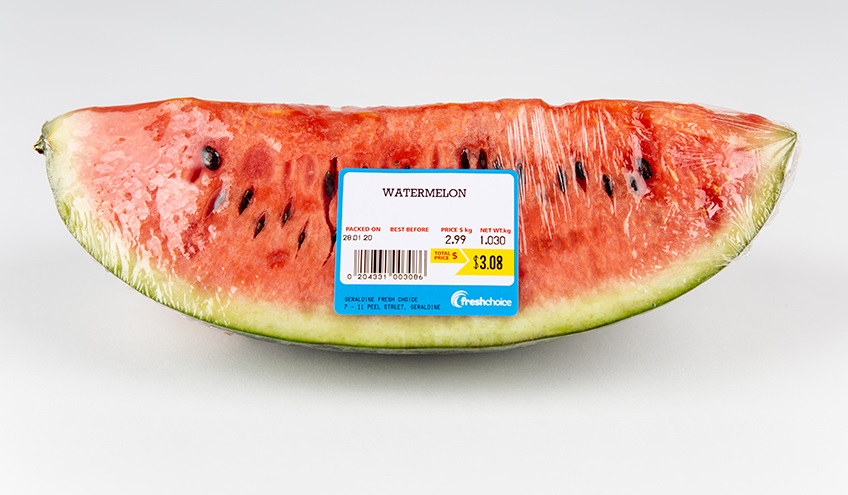 Understanding Thermal Labels: Direct Thermal vs. Thermal Transfer
Thermal labels are the perfect solution for printing information on demand such as barcodes, ingredients and dates. There are two methods to consider, each with their own advantages; direct thermal and thermal transfer.
Choosing the right thermal option requires matching application requirements with the capabilities of your printer. We've created the table below to explain the basics and compare the two methods. Our team of experts would be glad to assist further with your thermal label and ribbon requirements.
Direct Thermal

Thermal Transfer

How it works

Direct thermal materials have a chemical layer applied to a paper or synthetic base that is activated by heat.
When the label is printed through a direct thermal printer the small elements on the printer heat up and activate parts of the chemical layer to create the image required.

The labels are printed through a thermal transfer printer where, at the point of the print head, a layer of ribbon is placed on top of the label.

The print head elements heat up and cause the carbon pigment that is on the ribbon to transfer to the label, creating the required image.

Typical label applications

Short-to-medium-life applications
Direct thermal paper labels are best for retail, logistics and other industries where the label is not exposed to high heat or moisture levels after the label has been applied.
Direct thermal synthetics are a good choice for carton and retail pack labelling in the chilled and frozen food sectors where the labels are exposed to high levels of moisture and rough handling during transportation.

Examples:

Long-life applications
Thermal transfer paper labels are a good choice where direct thermal is not suitable or the print quality of the ribbon is preferred.
Thermal transfer synthetic labels are suitable for outdoor labelling and applications where high levels of moisture or scuffing are expected.

Examples:

Laboratory labels
Inventory identification labels
Industrial and chemical labels
Warehouse shelf labels

Advantages

Simple to use; a ribbon is not required as it images directly onto the label
Used in most printers
Cost effective
Greater productivity due to no ribbon changeovers
Clear and consistent images for good readability and scannability
Suitable for both 1D and 2D barcodes
Paper and synthetic material options available
The quality, stability and durability of the image is suitable for most common requirements

Excellent print definition for text, images and barcodes
Ideal for small characters and line work
Suitable for both 1D and 2D barcodes
Wide variety of paper and synthetic materials available including clear, pearl, metalised, and fluorescent
Coloured ribbons available for branding and promotional uses

Better resistance to heat, moisture and chemicals

Stable and durable images that are long-lasting
Higher speed printing
Longer print head life

Disadvantages

Can fade over time (6-12 months)
Overexposure to heat or UV light discolours the material, making the print harder to read
Limited abrasion resistance

Not all printers are thermal transfer compatible
Ribbons must be kept in stock are an additional cost; a ribbon saver can reduce the amount of ribbon used
Requires additional setup time and ribbon change-overs
Ribbons can wrinkle and compromise print quality

Ribbons
Not required

A ribbon is required; these are available in a range of different sizes, colours and grades. The common grades are:

Resin - typically used for industrial and chemical applications, where durability under extreme environmental conditions are required.

Wax Resin - suitable for general purpose printing, with good scuff, element and chemical resistance.

Wax - typically used in short shelf life applications, where there is low abrasion and low chemical exposure.
We make thermal labels for a wide variety of clients and our team has experience in designing the right solution for every situation. We also offer a convenient range of generic, stocked thermal labels and thermal transfer ribbons suitable for a range of printer makes and models. Our ribbon offer includes our exclusive range of Lingard quality ribbons, the Ricoh B110A wax resin ribbon and a range of specialty ribbons. Download our label catalogue to see what's available; all products listed in the catalogue are in stock right now and available for immediate purchase.
Our team of label experts have extensive expertise in all things related to thermal labels. We would be delighted to discuss your thermal labelling requirements, share our knowledge and develop a solution specifically for you. Contact us to schedule your free expert consultation.
Excalibur carcass tag

Direct thermal Excalibur carcass tag

Supermarket scale label

Direct thermal supermarket scale label

Lingard thermal transfer ribbon

Lingard thermal transfer ribbon, exclusive to Hally Labels

Syntherm insert

Syntherm high temp direct thermal meat insert

Thermal transfer label printer

A thermal transfer label printer in action

Seafood label

Thermal transfer label for seafood

Produce scale label

Direct thermal scale label for produce

Bakery scale label

Direct thermal scale label for bakery