Translating four craft spirits design trends into actionable label inspiration
The popularity of craft spirits continues to soar off the back of the well-established craft beer and cider markets. Handcrafted, small batches, locally sourced ingredients, unique flavour profiles: these brands are innovative and experimental. In turn, packaging plays a key role in expressing a brand's unique story.
Here we talk you through four design trends playing out in the craft spirits space and the practical ways you can incorporate them to create a memorable label.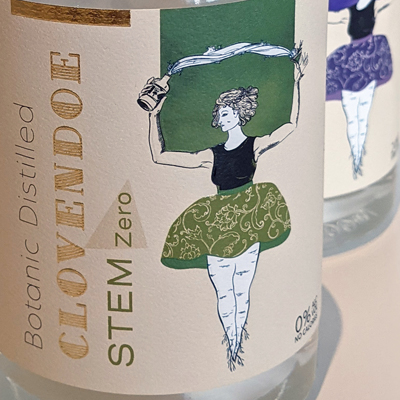 Design trend 1: Old school with a contemporary twist
Communicating luxury and status, this design trend uses nostalgic, historic or vintage cues to convey the brands story. To create this look on a label, consider:
Flourishes of elaborate design detailing emphasized by embossing to raise chosen elements
Ornate detailing with metallic inks or foil accents
Historic and hand-drawn typography for individuality
Elaborate crests and seals created with high builds and specialty varnishes
Textured or uncoated materials for that handcrafted look
Unique label shapes
A neck label seal to add detail and interest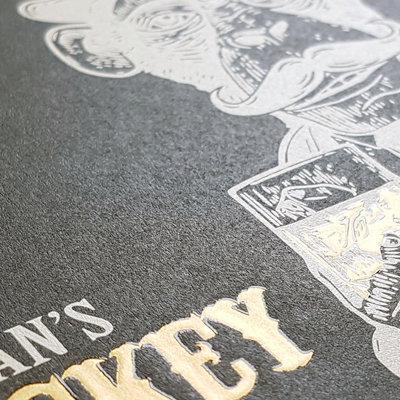 Design trend 2: The Bootlegger look
Inspired by the prohibition era, this look uses a hand-drawn, raw design aesthetic full of mystery. Some of the practical ways to create this look include:
Hand-drawn or 'type-writer' style fonts to create personality and authenticity
Personalised elements like the batch details, bottle number, and distiller sign-off (see digital printing for more)
Uncoated or textured materials for that 'small batch' feeling
Black Vellum, our striking uncoated paper that is black throughout rather than just on the surface, meaning beautifully black die-cut labels. This material is especially effective when paired with dense white silk screens and foils.
Embossing to create a rugged tactile feel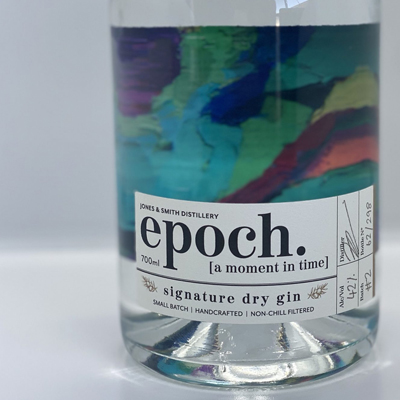 Design trend 3: Modern, clean and contemporary
A fresh, fashionable and Instagrammable design feel that can be captured with label elements such as:
Clean, minimal elements
Monochrome line illustrations
Blocks of spot colours, from soft pastels through to vibrant brights
High-build screens used over logos or fonts to create a raised, glossy and tactile effect
3D-effect front and back label combinations, where an image or pattern is printed on the back of the back label. This provides a backdrop for the front label through the bottle (see example left)
Luxurious tactile finishes like our soft touch coating, sandpaper coating, or rough touch laminate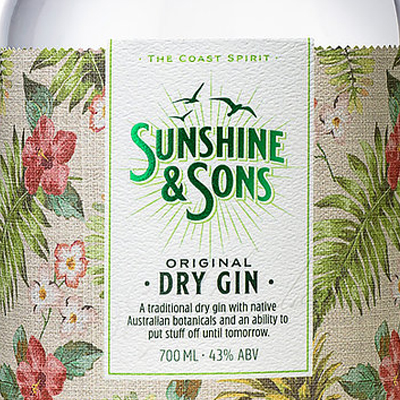 Design trend 4: Botanical, natural and organic
A look influenced by nature that is soft and harmonious, with luxury, fashion and sustainability cues. Consider using:
Uncoated textured materials with environmental credentials such as:

Haast; our premium textured off-white paper that is FSC® Chain of Custody certified.
Pelorus; our premium textured bright white paper that is PEFC™ Chain of Custody certified.
Cotton; a white, textured paper that is made from 100% cotton.
Sugar-cane; a white, uncoated and textured paper made from 100% sugarcane waste.
Clarence; our crisp white paper with an uncoated, textured felt finish that is FSC certified, features 30% post-consumer waste and is Green Seal certified.
Agave; this paper has a natural fleck appearance and is made from 100% post-consumer waste agave fibres reclaimed from burlap bags.
Grass; this paper has a light natural tone and is heavily flecked. It contains 50% sundried grass obtained from unused meadows near the paper mill.

Detailed plant or nature motifs inspired by botanical illustrations
Luxurious soft copper foils or metallic embellishments
Images or patterns printed on the reverse of the label
Interested in more label inspiration? Contact us for a free label sample pack.
We are experienced craft spirits label manufacturers, offering the full range of embellishments, an extensive selection of specialty materials and no minimum order size. Our label experts would be delighted to advise you.