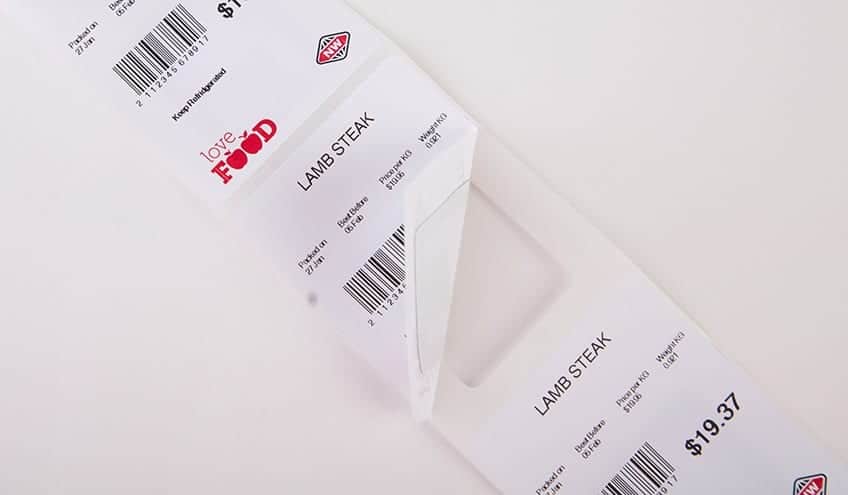 Stop supermarket meat theft immediately with Hally Labels' Integrated EAS thermal label solution
We can show you how to reduce supermarket meat theft using a simple addition to your current label. The Hally Labels patented Integrated EAS (Electronic Article Surveillance) thermal scale label is a covert security solution which is helping supermarkets around New Zealand combat butchery thefts. With high value foods such as meat, smallgoods and seafood increasingly targeted by thieves, our Integrated EAS thermal scale label offers maximum protection with minimum fuss, enabling food retailers to improve on-shelf availability and increase sales.
How our Integrated EAS Labels help to deter the theft of premium meat cuts:
Covert appearance
Unique design
Easy to use
Simple integration
Proven solution
This EAS-enabled solution won a gold medal award for innovation at the recent New Zealand Pride in Print Awards – read on for how to get started with this product.
Follow these three easy steps to decrease theft rates:
1. Identify which of your premium meat cuts are being targeted
Theft of butchery and retail ready meat items is a major issue for supermarkets, with meat often stolen for sale on the black market. The first step is to work out which products are being targeted for theft. You will then be able to identify which labels are used for these products.
2. Order your usual thermal scale labels from us as you normally would, requesting an Integrated EAS version
The labels that you've identified in step one now need to be ordered as Integrated EAS labels. Simply contact us and order those same labels, but requesting them as Integrated EAS versions. The shape, size and design doesn't change. We have used a unique "keyhole" concept to allow the price weigh label to remain at its original size while an EAS label is placed on the reverse.
A thick proprietary liner is also used and a hole cut that is large enough for the EAS tag to be placed inside. The thick liner allows the whole label to be thermally printed directly over the area where the EAS label is applied.
You will find that the EAS tag is covertly hidden within the price weigh label, meaning tagged product is not easily identifiable. This ensures maximum security impact and consistent on-pack appearance.
You might choose to only order a portion of your labels with an Integrated EAS tag; there's no need to use them on all your meat products. Simply use them on the products you've identified in step one as being at the highest risk.
3. Apply your Hally Labels Integrated EAS labels instore as normal
Butcheries and all other departments within supermarkets can use their existing labelling equipment to print the Integrated EAS scale labels. The same is true for centralised meat processing facilities. The label print formats remain unchanged, and minimal machine setting changes are required. It is easy to transfer non EAS labels to integrated EAS labels in labelling machines. We have solutions available to suit all scales and applicators, and our product is proven through Digi and Ishida butchery auto-wrappers.
You are then able to place the labelled product (with the EAS label hidden under the scale label) in the retail cabinets as normal. When the product is taken to the exit points of the stores, if the EAS label has not been deactivated (a process that happens when the barcode is being scanned) an alarm will sound alerting store security.
The Hally Labels Integrated EAS thermal scale labels went to full commercial production last year, with Foodstuffs in New Zealand an early adopter of the solution.
Our award-winning Integrated EAS labels are a superior alternative to other options. Overt EAS anti-theft devices visually detract from the product on sale and after careful design of packaging and labelling to show and sell your premium product, why spoil it with a big, loud security label? Other integrated options in the market require a larger label which covers your product, looks different (alerting thieves to the security tag), requires changes to your labelling equipment and adds cost. Our team of label experts are available now to help you reduce supermarket theft through our Hally Labels Integrated EAS security solution. Contact a member of our team at one of our sites; Auckland, Brisbane, Christchurch and Sydney plus our Melbourne Sales Office.