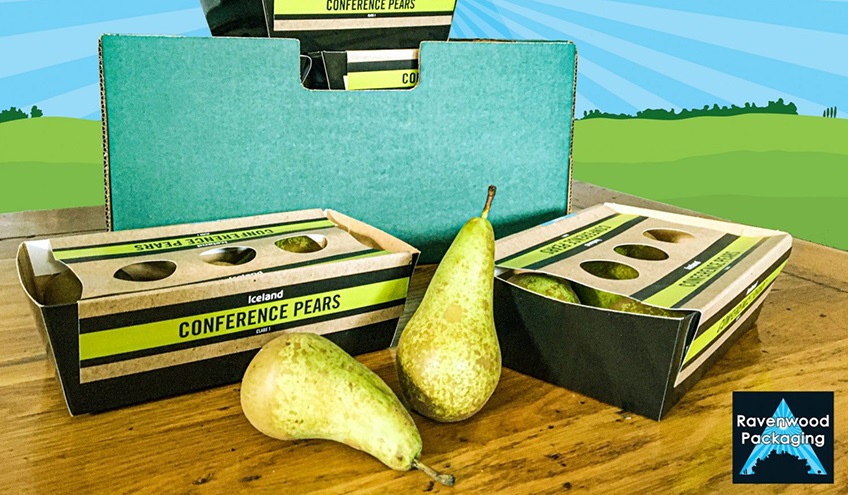 'Fruit Lid' Linerless Wraps: a sustainable choice for labelling produce
Linerless Wrap products continue to be a popular presentation choice across a broad range of product categories, with the 'Fruit Lid' being the latest innovation to hit the market. Fruit Lids are Linerless Wraps applied to a cardboard tray, creating a renewable and recyclable solution that removes the need for plastic packaging. This totally new linerless concept keeps the produce secure in the cardboard tray without the need for plastic wrap, delivering ultra-premium shelf appeal.
Alongside Ravenwood Packaging, Hally Labels are excited to partner with the local produce sector to introduce this innovation to the market. There is a never ending list of fruit and vegetables that can be packed in this eye-catching format including pears, apples, kiwifruit, plums, tomatoes and avocados.

What are Linerless Wraps?
Linerless Wraps are a crucial component of the revolutionary labelling solution developed by UK-based Ravenwood. Used in conjunction with their simple, easy to operate "Nobac" applicators, they deliver vastly improved productivity with significant environmental benefits. Linerless Wraps do not require a release liner and are therefore a more sustainable alternative to die-cut self-adhesive labels.
The Fruit Lid variant expands on the concept, creating a sustainable solution for produce packaging.
Ravenwood Packaging Nobac 5000L applicator
The Ravenwood Packaging Nobac 5000L applicator has been developed and tailored specifically for applying linerless Fruit Lids to cardboard trays containing fruit and vegetable products. It is suitable for narrow/wide fruit and vegetable trays with speeds up to 70ppm. Visit the Ravenwood website for more information on the 5000L.

A renewable and recyclable solution
The Fruit Lid solution matches paperboard Linerless Wraps to cardboard trays, forming a complete pack made from renewable materials that is fully recyclable. This is an eco-friendly alternative to plastic trays with flow-wrap plastic packaging.
Fruit Lid case studies
There is strong uptake of this innovative new format in the UK, with products launched at retailers Waitrose, Iceland, and Ocado. Below are links to three case studies:
Fruit Lid Linerless Wraps will help you meet your sustainable packaging goals whilst creating a premium packaging format for your produce. Interested to learn more? Book an expert consultation with one of our team to discuss your options and view samples.