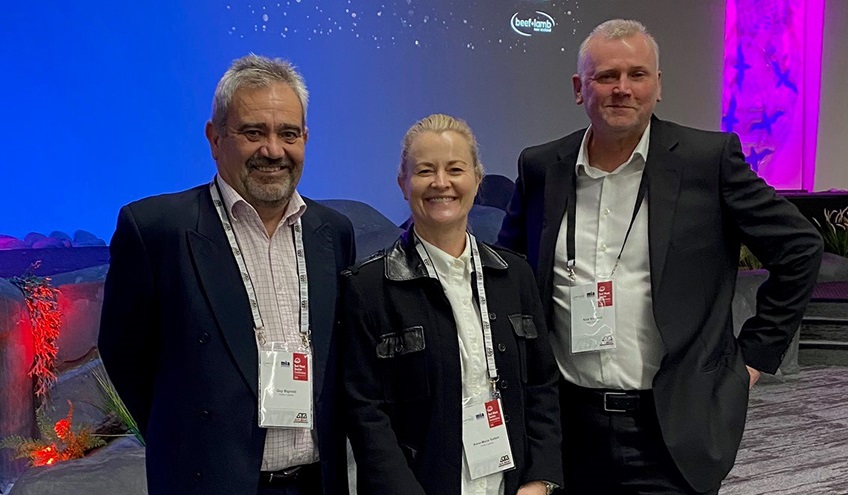 Hally Labels supports the Red Meat Sector Conference 2021
It was fantastic to be back at the Red Meat Sector Conference in our eighth year as the official coffee cart sponsor, after the inevitable postponement of the 2020 event. The conference is jointly hosted by the Meat Industry Association of New Zealand (MIA), and Beef + Lamb New Zealand Ltd (B+LNZ) and is a significant networking and educational event for all sector participants.
This year the conference was held in Rotorua on Sunday 25 and Monday 26 July, engaging farmers, industry and service providers. In attendance for Hally Labels were Group General Manager Anne-Marie Sutton, National Sales Manager Murray Davis and Senior Account Managers Nick Shepard and Guy Bignold. Alongside our coffee cart we showcased Linerless Wraps, a premium, efficient and sustainable labelling solution that is rapidly gaining traction in the New Zealand protein space.
Anne-Marie reports that, "The quality of speakers was excellent, and the topics were broad and challenging. The industry is thinking ahead and is not afraid to address the difficult topics such as carbon emissions, the political landscape, Covid-19, and gender and racial diversity. It is reassuring to see the quantum of data and global research that supports much opportunity in the nutrient-rich space. Many industry players are taking a fresh, progressive approach and it is a credit to the sector that the opinions of the next generation of leaders are being sought."
The event concluded with the Gala Dinner function held at Te Puia, home of The New Zealand Māori Arts and Crafts Institute. A great way to unwind and connect. The gallery below shares some highlights from the event.
We're keen to talk further about sustainability, innovation, product development and premium presentation solutions like our Linerless Wraps in this sector – our sales team are available to talk at any time.
Hally Labels coffee cart

Coffee cart ready to go

Hally Labels coffee cart

Our ever-popular coffee cart in action

Red Meat Sector Conference 2021

The conference getting underway

Red Meat Sector Conference 2021

Stunning Rotorua. Pohutu Geyser in the background, the largest active geyser in the Southern Hemisphere.

Red Meat Sector Conference Gala dinner

Murray and Anne-Marie at the Gala Dinner held at Te Puia, home of The New Zealand Maori Arts and Crafts Institute

Red Meat Sector Conference Gala dinner

Guy and Nick enjoying the Gala Dinner

Red Meat Sector Conference 2021

The New Zealand Maori Arts and Crafts Institute, which opened in 1963 due to the impending threat of the loss of traditional Maori arts

Red Meat Sector Conference welcome function

Guy, Anne-Marie and Nick at the Welcome Function