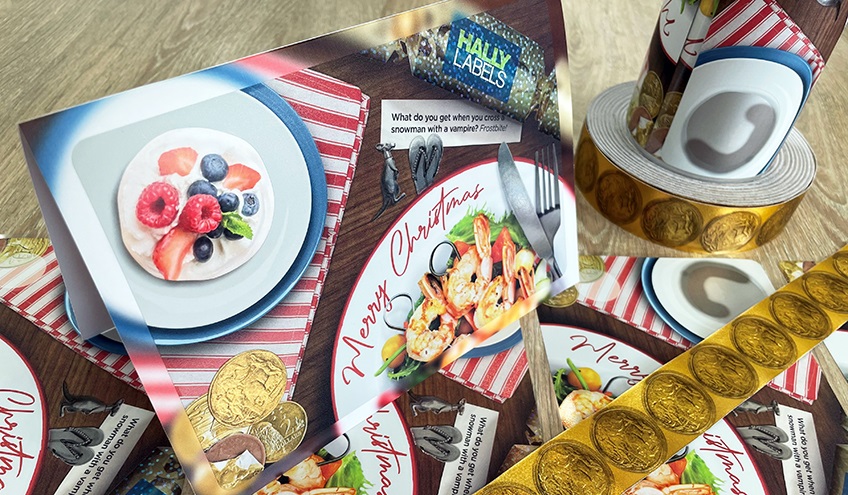 Channelling texture for the 2021 Hally Labels Christmas Card
Our annual Christmas Card label tradition continues, with texture being the theme for 2021.
Dimension has been created by layering different finishes and embellishments. The main label is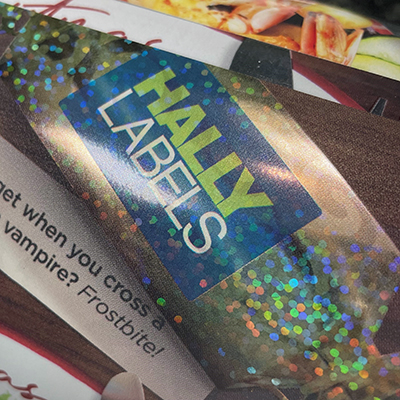 printed on silver film and features:
Soft touch lamination - a luxuriously smooth matt finish with a velvety-soft feel
Snakeskin coating – creating a snakeskin-like textured look
Naseby Ice coating – for a shimmering pearl finish
Holographicoat – creating a transparent holographic effect over chosen design elements (pictured right)
Spot gloss coating – for ultimate contrast against the soft touch lamination
And all printed inline in one pass.
The secondary coin label features foil and emboss and is printed on a thick paper ideal for heavy embossing.
Thank you to our Christchurch team who did a spectacular job.
Our cards are winging their way to our customers…keep your eyes out! Alternatively, you can request a sample from our team of label experts.
We warmly wish you and your loved ones a safe and merry festive season.
Richie on press printing our 2021 Christmas card label

Richie on press printing our 2021 Christmas card label

The Holographicoat effect being laid down

The Holographicoat effect being laid down

On press at our Christchurch factory

On press at our Christchurch factory

Ryan checking on progress

Ryan checking on progress

The secondary 'coin' label on press

The secondary 'coin' label on press